Garcia Out To Prove Elite Status Against Redkach
Ahead of his ring return against Ivan Redkach on January 25 in Brooklyn, Danny 'Swift' Garcia says he wants to prove himself as a genuine pound-for-pound calibre fighter.
Speaking at the press conference to announce his clash with Ukraine's Redkach, Garcia added that he was treating their January battle as a good way to prepare for top-tier southpaws Manny Pacquiao and Errol Spence Jr ahead of any potential match-ups down the line.
"Come January 25, this is going to be another great night of boxing," The 31-year-old Garcia said. "I know Ivan is coming to fight. We've followed each other's careers. I know he's hungry and he wants to show the fans that he belongs on this level.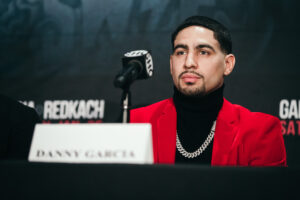 "If the top welterweights want to fight me, I'll be ready whenever. Redkach makes a lot of sense because he's a southpaw and that would have me ready for Errol Spence Jr. or Manny Pacquiao.
"We picked Redkach because he's dangerous and we knew he'd be tough. I'm definitely not overlooking him. I'm training hard for this fight. For me, this is a big fight. If I overlook him, it could ruin everything. I want to show everyone I'm still one of the best pound for pound fighters in the world.
"Redkach has a big heart and he's going to come forward. I think it's going to be a really entertaining fight. I can't overlook him.I always feel like I'm the best. They need me, I don't need them. I'm one of the best fighters in the world and I'm going to be here for a while."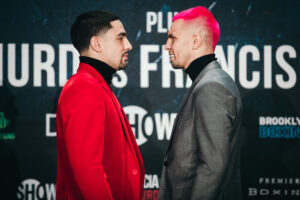 Redkach – who moved up from super lightweight to halt Devon Alexander in 2019 – made no secret of his approach towards his clash with two-weight world champion Garcia. The 33-year-old vowed to stun his welterweight counterpart with a KO victory on January 25. He said:
"I want Danny Garcia's fans to all come out on January 25 because you're going to see a great fight and you're going to be welcomed into the Ivan Redkach family.
"Danny made a mistake if he thinks this is a tune-up. I'm going to give everyone a great fight, and I'm going to knock Danny Garcia out. That's the plan. Simple. I'm training very hard because this fight is extremely important to me. I have to give the best performance of my professional career.
"The energy in the building on January 25 is going to give me the extra motivation to not only put up a great performance, but to leave Brooklyn with the victory."
Article by: Ryan Elliott
Follow Ryan on Twitter at: @RBE_73