The Saint Goes Marching on…
Likeable London Super middleweight George Groves stole the show at Sheffield's Bramall Lane on Saturday.
George Groves produced an eye-catching display in smashing the very tough and resilient Russian former champion Fedor Chudinov for the vacant super middleweight WBA title.
One couldn't blame Groves if he started tentatively having lost in 3 previous world title attempts. But he was quick to grasp control, using his sharp and accurate left jab to excellent effect jolting the upright Chudinov's head backward several times in the opening round.
Chudinov had quite an ominous presence as he bulled forward in the second trying to get close to use his strength. He had some success on the front foot forcing Groves to hold when needed.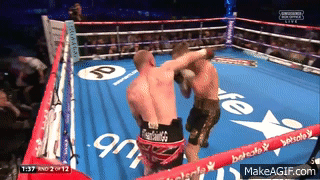 Despite this pressure, Groves' ever present jab worked well for him and he started to show the overhand right that gave Carl Froch nightmares in their epic battles on more than one occasion.
Chudinov was showing signs of rust as he loaded up and missed wildly. The Russian had been out of the ring for 15 months since his highly controversial loss to the very experienced Felix Sturm.
Groves capitalised on this, looking more and more confident through the next 2 rounds. He was obviously following a good fight plan under the watchful eyes of trainer Shane McGuigan.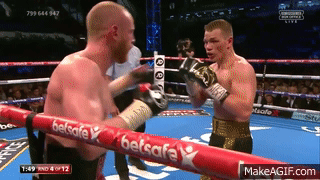 By the 5th round Chudinov was still looking strong and constantly moving forward forcing Groves backward and trying to use his power as he pushed Groves against the ropes trying to dent the London man's will and test his questioned stamina.
Groves kept finding a solid punch from his crouching loose armed style by using the uppercut and overhand right to stop Chudinov in his tracks at the end of the round.
The Londoner came out for the 6th round with his hands higher and immediately got the jab working in much more purposeful manner, looking to stand his ground he quickly brought in a looping hard overhand right that knocked Chudinov head abruptly to the side.
Groves quickly reacted to his success as Chudinov stepped forward onto another crushing right. 'St George' then stepped back, measuring his man he seized his opportunity to hammer the Russian with non-stop lefts and rights that rained through his opponent's guard that rocked his head from side to side.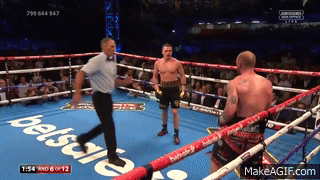 Referee Steve Gray then stepped in to hand the Hammersmith man his dream and the WBA Championship of the World at the 4th time of asking. Creating his own real life Rocky story of self-belief and persistence which paid off in style.
This excellent win for Groves sets up some fascinating future domestic clashes with the likes of Callum Smith and a possible rematch with IBF king James Degale, whom he defeated 6 years ago by close decision.
Post-fight, respectfully, Groves was more concerned with giving his prayers and well wishes for still injured former opponent Eduardo Gulknecht in a real heartfelt tribute… respect indeed.