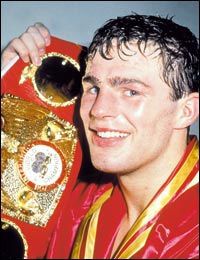 Cruiserweight is a division I have a particular fondness for as one would imagine as a former champion of the world in that weight class.
But I was very proud of my other titles the Commonwealth I won as a fresh faced 22 year old against World class Chisanda Mutti and especially the British I was to win a few months later outpointing the tough big puncher Tee Jay to win the coveted Lonsdale belt. I can totally understand Blackpool's cruiserweight hopeful Matty Askin who is desperate to finally add that belt to the English title he already owns, it has slipped his grasp once before when he was outpointed by the very capable Ovil McKenzie. Askin faces undefeated Welshman Craig Kennedy at the Motorpoint arena in Cardiff on Barry McGuigan's Cyclone promotion event this Friday.
It's a really good matchup with Kennedy unbeaten in 16 contests 8 coming early and at 6'3 tall having good reach and ability and the bonus of fighting at home in Cardiff for the vacant title. Askin has prepared very well sparring in Poland with the top ten ranked Krzysztof Wlodarczyk who is very experienced and the up and coming young heavyweight out of Ricky Hatton's stable Nathan Gorman who is big strong and has very fast hands. So is Askin ready to take his opportunity against Kennedy who is hanging on the his nickname of "The Kid" at 32 years of age? Kennedy will need to show maturity fitness and and a real good workrate if he is to grab the Lonsdale belt from Matty Askin's grasp. I'm looking forward to a hard fought contest and I feel that extra experience and desire will be the difference for an Askin victory in a good domestic dust up.
Also not to be missed is the excellent flyweight Andrew Selby in an international contest against Christoper Rosales the 22 year old Nicaraguan with only 2 points losses in 25 contests 15 by KO who could be a real handful, but the beautiful boxing hard punching Selby is on a fast track to emulate brother Lee Selby As World Champion in the future and dangerous Rosales won't stand in the way.