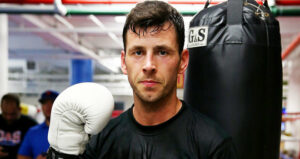 I was on my travels up and down the country last week for Boxing Social having in depth and revealing conversations with former IBF middleweight champion the very likeable Darren Barker who tells us of his rollercoster and very emotional journey to the top and the sadness he endured with the loss of his brother Gary in a real heartfelt interview.
Then I was off down to Kent and the unicorn pub in Marden where I chatted with Kellie Maloney on life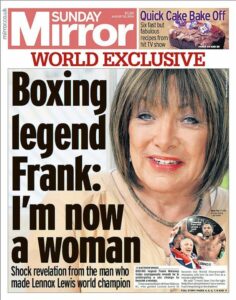 in boxing as Frank with the sports biggest names and biggest fights and the enduring sadness that would push him to the very edge to his transition and bravery facing the world at long last with his astonishing secret. Fascinating indeed…
Sunday and back to my travels, a quick flight to Belfast then two hours north to our family home in the beautiful coastal village of Culdaff, Donegal to my role as boxing trainer to the young aspiring professional, Derry's Sean McGlinchey, the former Commonwealth games bronze medalist, who made his successful debut on April 22nd at the Devonish, Belfast, under the guidance of young manager and former boxer Kieran Farrell.
Indeed I think I've picked the perfect time to go into full time coaching as Ireland is going through a real boxing resurgence especially in the North where Carl Frampton the former two weight world champion is ready to make his comeback. I feel more titles beckon for the very likeable Belfast star. This Friday controversial Olympian Michael Conlan tops the bill in Chicago in only his second pro fight and great things are expected from him.
Eddie Hearn has a big promotion in Belfast on 10th June with young Ryan Burnett the British Champion challenging for Lee Haskins IBF Bantamweight title, with a good cruiserweight battle sees Tommy McCarthy fighting Irish based former heavyweight Cuban Mike Perez, as well as undefeated Feargal McCrory and Debutant Padraig McCrory making me feel well and truly at home.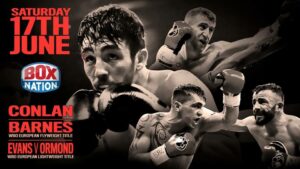 "Battle of Belfast " Frank Warren's terrific bill on the 17th June Headlines Paddy Barnes in a WBO European title fight early in his career, Jamie Conlan is on the bill also and the reason Sean McGlinchey and myself have set up camp in Donegal a second outing for Sean at middleweight on a big card in Belfast, one thing is for certain they'll know when the very likeable mummy's boy with his loud and passionate Derry fans turn up, Irish eyes really are smiling…