John Harding Jr: The Perennial Underdog's Quest For Glory
This Friday evening, John Harding Jr. will be stepping through the ropes in Liverpool's Exhibition Centre to face Bolton boxer – Jack Cullen (16-1) – for his English Middleweight title. The challenger is a betting underdog, but he is used to high pressure situations having taken a long and hard road to this position. A victory on Friday night would be another chapter in a remarkable story about a man's perseverance and courage in the face of adversity.
The Middleweight contender grew up in New Cross in South East London. He took up combat sports after being inspired by Rocky films as a 13-year-old. First, he walked into a kickboxing gym, but his dalliance with that was short-lived. He discovered boxing soon after, never to look back.
Despite the discipline that boxing instils in young men – it can't save everybody. Like many of his peers, Harding Jr. got into gang activity, which eventually landed him in prison for a considerable amount of time. This would have ended most people's aspirations of becoming a professional athlete.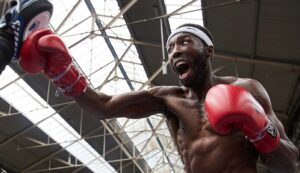 The fighter recalls when he first thought about being a professional boxer, "Just before then [getting sentenced to prison] I remember thinking about boxing [as a viable career option]."
His time in jail convinced him that the sweet science could keep him on the straight and narrow, "I got locked away and remember seeing boxers that I knew on TV. I just said that when I come out that's what I'll do."
The fighter started training out of Brixton's famed Miguel's boxing gym alongside the likes of Dillian Whyte, Richard Riakporhe and Isaac Chamberlain. The novice from New Cross began on the small hall circuit, "I started off as a ticket seller and thought that this was easy. I sold out York Hall and I didn't even get to fight [on the show] – it was crazy and then it starts going down[hill]."
The eventual fanfare and ticket sales start to fade – it wasn't helped by Harding Jr. drawing with "journeyman" Anthony Fox in his second fight, which by judging Fox's recent form isn't a bad result. This is the only blemish on John's record, which stands at 7-0-1.
His stars changed following a sparring session with Dillian Whyte, which was watched in awe by his current trainer Mark Tibbs. Linking-up with Mark Tibbs and the Whyte brothers from a management perspective have bought John the structure that he longed for and ensured that his training regime became more professional.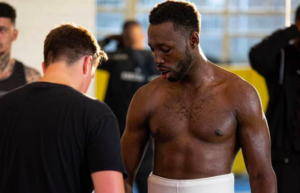 Harding believes that his new setup will lead to an upset victory by stoppage against Cullen. He is stepping up in weight from 154 pounds to 160 pounds for this challenge, and feels that his current trainer is managing to get best out of him. He said:
"[Mark] Tibbs made me feel comfortable and he was the first person to say that you can box. Your defence is beautiful", also adding that making the weight has been easy as they've managed to build muscle to fit his Middleweight frame.
It's easy for the bookies to write off the 34-year-old fighter, who doesn't possess an extensive amateur record. However, this is nothing new to the former small hall fighter. He explains:
"I am used to the doubting [by others], whether it's age or something [else]. It's water of a duck's back – I've come in late [to boxing]. I wasted so many years in prison".
This is the second time that Harding Jr. is set to battle on a Sky Sports card. His opponent on Friday, a highly touted 6ft 3" English Middleweight Champion, will be looking to make a name for himself on this platform. Performing on the big stage isn't new to the challenger – reminiscing his own debut on Sky Sports, he recalls:
"Them lights are very bright, and you see the Sky Sports logo. Especially for him [Cullen], he was meant to fight Felix Cash and he still wants to fight Felix Cash. He is talking about it – the pressure is on him. For me there is no pressure – just the prayers of all my people that really want me to win."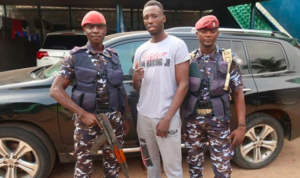 Whatever happens in the fight, the London-based contender won't be defined solely on what he does in the ring. Harding was recently honoured as an Executive Official, a senior Ambassadorial role, for Sierra Leone's boxing industry.
He recently visited his family and father's home country in South Western Africa, but he was there to introduce himself to the local movers and shakers of boxing. He feels that this experience was eye-opening.
"I look at the blessings I have now," He recalled. "You see people struggling [in Sierra Leone] to get by with so little and on the smallest wage. I appreciate what I have."
The boxer added that in the long-term he wants to use his connections to help build boxing in his father's home country and continue to inspire people, "Life after boxing is definitely going to be opening up doors for others that feel that they need the right direction."
The God-fearing fighter can't believe how his positive message and journey has resonated with such a wide audience. Even more baffling to him is the support that he has been getting from boxing fans across the country. In a grateful voice he said:
"It means a lot when people stop you in the street. It's mad and I feel like I'm dreaming because sometimes I'm too used to being a normal kid from the life. From the outside looking in and supporting all the others. It's just different now, it's just so different."
Harding Jr. remains humbled by the opportunities that boxing continues to present to him. But he isn't under any illusions that this is the most important fight of his boxing career, and despite the odds being stacked against John – you would be a fool to be surprised if he upsets the odds, once again.
Article by: Riku Heikkilä
Follow Riku on Twitter at: @Lead_Right