Jono Carroll produced the performance of his career, stopping Scott Quigg in the penultimate round of their super-featherweight showdown at the Manchester Arena and extending his record to 18-1-1 in the process.
The Dubliner was dominant throughout the early proceedings, peppering his counterpart with a sharp southpaw jab coupled with some solid work to the midsection, and appeared to bloody the Bury native's nose in a largely one-sided opening round that was surely a harbinger of things to come.
Although the second stanza was debatably fought on more even terms, Carroll quickly reasserted his control in the subsequent rounds, invariably getting the better of any exchanges on the rare occasion Quigg was able to get himself into punching range.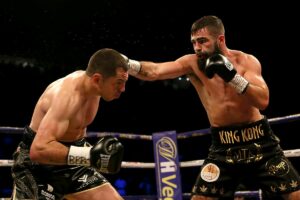 The Irishman's superiority and quickness on the trigger was evident by this point, to the extent that concern for Quigg's wellbeing – as opposed to his prospects in the fight – quickly became a prevailing theme of the commentary; as the Mancunian continued to sustain punishment without being able to muster a meaningful response.
Carroll's approach, meanwhile, was methodical and educated throughout, mixing up his offensive work and showcasing great variety, whilst positively bamboozling Quigg all the while with his movement and hand speed.
At the latter stages in the fight, Carroll was able to pace himself quite comfortably, displaying the confidence and composure of someone clearly in the ascendancy while the typically stubborn Quigg – in addition to his trainer Joe Gallagher – seemed reluctant to admit defeat.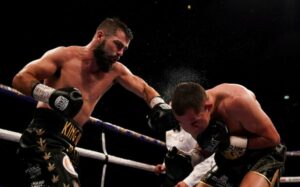 Finally, the towel came in the eleventh, sending Carroll and the thousands of his travelling supporters into a joyous frenzy.
Article by: Navi Signh
Follow Navi on Twitter at: @DarkMan________