The huge rematch between Anthony Joshua and Wladimir Klitschko might be signed and sealed in just two weeks. But if Klitschko declines a comeback then the IBF mandatory challenger Kubrat Pulev is next according to Eddie Hearn.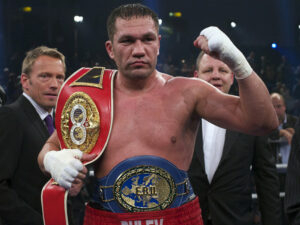 "If Klitschko comes back and says he doesn't want a rematch then we will fight Pulev next, unquestionably. I spoke to Klitschko's manager Bernd Bonte a few times. Bernd said he (Klitschko) will have two weeks with his family and then he will make his mind up. I am looking at options now for the rematch while we wait on Klitschko because you have to have an idea on dates and possibilities," revealed Hearn.
If the rematch does come to fruition, possible venues for the fight are the Principality Stadium in Cardiff, the MGM Grand in Las Vegas and other places in Dubai, China and Qatar are considered as well. Hearn is very interested in the idea of organizing the event in another country than the UK.
"We are talking to China, we are talking to Dubai and Qatar, we are talking to America and the Principality Stadium. Wladimir might say, 'What's the money?' and obviously if there is huge money from another country he is going to want the rematch more. It would have to be an incredible deal to go to another country. We should know where we are going by the end of June," told Hearn.
So the deal is simple: if Klitschko passes on the rematch then Joshua will fight Pulev.
"We could try to get an exemption from the IBF which may be granted, may not. I've been talking to Pulev's promoter Kalle Sauerland, who we know quite well. If we fight Klitschko again, we get that exception from the IBF or we try to do a deal with Pulev? But we have to fight Pulev at some stage. If Joshua doesn't fight Pulev next he will fight Pulev after Klitschko."