Here's What Joshua Promised To Klitschko During The Fight
In a recent interview with Colin Finchley of Amateur Boxing Club, Anthony Joshua revealed his exact words to Klitschko before stopping him in the 11th round at Wembley.
Joshua made a promise to the Ukrainian after he put the Londoner through some trouble with a knockdown. Joshua proved later on that he truly is a man of his word.
"I was talking to him and I just told him, 'If you let me get through this round, I'm gonna f#ck you up.' And he said, 'I'm going to knock you out'. It's competition talk," said Joshua.
Joshua also went into detail about what went through his mind before the stoppage.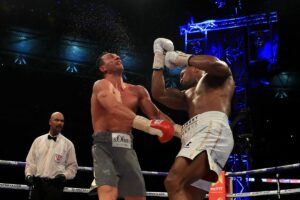 "I knew these two rounds were vital I knew it was close. I stepped it up, boom boom boom boom. Subconsciously, I don't know where it came from, I just whipped it up and saw his chin… it was like an exorcism where he's looking at the back of the crowd. He started trying to disguise when you're hurt and I thought this is my chance to take him out and I just tried to land every punch, I threw the kitchen sink at him and I finally got him out of there in the end," told Joshua.
Klitschko did knock Joshua down in the fifth but Joshua gathered his wits and survived. Eventually in the 11th round the 27-year old put a remorseless beating on 'Dr Steelhammer' that ended the fight.