Fans at Sheffield's Bramall Lane left an excellent night of boxing thoroughly entertained but with mixed emotions, I would imagine.
George Groves fulfilled his lifetime ambition of securing the super middleweight championship at the 4th time of asking.
In the main event, Sheffield's very own IBF Welterweight Champion Kell Brook took on number 1 contender undefeated American Errol Spence Jr.
Brook was seeking to wipe away the memories of his brief and ill-fated foray into the middleweight division last September, where he was retired after 5 painful rounds by pound for pound king Gennady Golovkin.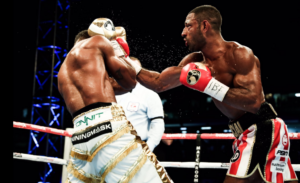 Starting with confidence, Brook looked to take the center ring and get his jab off to good effect.
He showed no obvious wear and tear after shedding the substantial weight gained for Golovkin. In fact, Brook looked sleek and a sharp in the opening rounds. Giving the 27-year-old challenger plenty to think about.
Brook landed time and again with right leads whilst Spence walked forward with his hands held high. Spence was trying to take the fight to Brook, but it was hard work as he looked to work the body.
By the 5th round, the Spence camp was a little happier as their man started to get a foothold. Their tactics started to become evident in what was proving to be a very entertaining all-action contest.
Starting the second half of the fight, Spence's youth, freshness and obvious natural talent came to the fore. Sensing his destiny, he started to up his work rate.
It became obvious that Brook was now starting to feel the strain from continuous months of pounding his body both on the road and in the gym… the sacrifices needed in playing the 'weighting game.'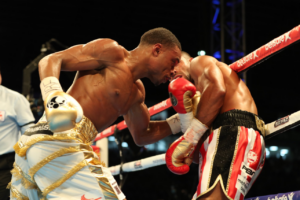 Still, the action continued with both men playing their part in a captivating contest of skill and will.
Brook started to mark up as a swelling appeared to his left eye in the 9th round. Memories awoke of the Golovkin injury.
Kell bravely rose to the crowd's cheers but was being gradually worn down, falling to the floor in the 10th. Getting to his feet he somehow courageously fought back, landing himself to close the session.
Spence motivated and with purpose lifted his game taking the fight to Brook. Landing a nice combination Brook was forced to step back.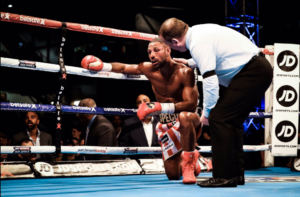 Pausing momentarily in pain, he dropped to his knee. Glove cupping his injured eye, Brook surrendered his title to the impressive Spence. Handing him his first and certainly not his last World Title.
The future looks very bright for this talented youngster, with several big name options to choose from and a lucrative career beckons in this toughest of sports.
But what now for Brooke? To some, he has been labeled a quitter for retiring in both of his last two contests which is unjust and unkind.
It takes a brave soul to get through those ropes at any level in this uncompromising sport.
Unless you've competed at the very highest level against the toughest of men, you have no idea what threshold it takes to withstand the punishment you take.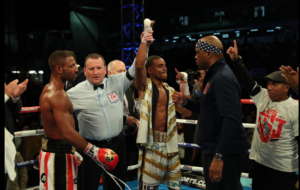 Kell Brook has had a fine career at the highest level and has nothing to prove to anyone. There are certainly plenty fight options out there for him and he is still more than capable of meeting that challenge.
However, with a beautiful family and handsome bank account the British Boxing Board of Control, his management, and his family need to understand the medical implications of two serious eye injuries before he boxes again.
Good Luck and God Bless Whatever Path you choose Kell mate…