THE KING'S FINEST: Top Five Tyson Fury Performances
During his astounding 31-fight career, heavyweight ruler Tyson Fury has captured the hearts of fans on his path to stardom. From that undertaker rise to mesmerising knockouts, we look back at the WBC World champion's top five outings as a professional.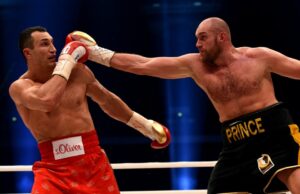 TYSON FURY VS WLADIMIR KLITSCHKO
The Gypsy King was a sizeable underdog going into his highly-anticipated showdown against Wladimir Klitschko in Dusseldorf, who had reigned as heavyweight king for over a decade. Yet the biggest fight of Fury's life – at the time, anyway – was memorable for how utterly anticlimactic it was, such was Fury's dominance on the night. The Mancunian effortlessly danced his way to a comfortable points win without ever seeming to get out of second gear, as Doctor Steelhammer – out of ideas as well as being out of his comfort zone – was convincingly unseated in front of thousands of fans in his adopted country.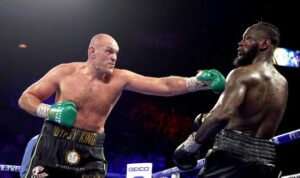 TYSON FURY VS DEONTAY WILDER II
Bookmakers had moved towards favouring the WBC champion Deontay Wilder in the days leading up to their Las Vegas rematch. Indeed, pundits and fans were split on the question of whether Wilder's murderous punching-power would ultimately trump Fury's pretty boxing and superior craft. In the not-too-unfamiliar position as underdog, however, Fury produced an inspired display at the MGM Grand; completely turning the tables on the heavy-handed Tuscaloosa native with his aggressive approach and calculated stalking to secure a seventh-round stoppage victory for the ages.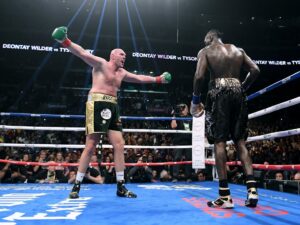 TYSON FURY VS DEONTAY WILDER I
Their first encounter in December 2018, meanwhile, saw Wilder installed as a prohibitive favourite by bookmakers, courtesy of Fury's well-documented problems outside of the ring, coupled with the fact that Wilder – who was Fury's first real 'live' opponent following his comeback – was in destructive form having sensationally knocked out Luis Ortiz earlier that year. However, Fury once again made a mockery of the pre-fight consensus by quite frankly making Wilder look silly at numerous points throughout the first eleven rounds, before dramatically rising from the brink in the final round to 'salvage' a split-draw. The verdict was not without controversy, and resulted in their rematch taking place less than eighteen months later.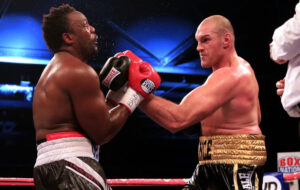 TYSON FURY VS DERECK CHISORA II
Dereck Chisora was given an opportunity to avenge his July 2011 reverse to Fury a little over three years later, in an eliminator for Wladimir Klitschko's heavyweight championship, but was virtually overmatched from the outset in their showdown at the Excel Arena. Fury, who had made significant improvements since their first meeting, quickly found a home for his jab and built an unassailable lead on the scorecards with his size and movement, beating the Zimbabwean-born heavyweight to a bruised pulp before the fight was stopped after ten rounds.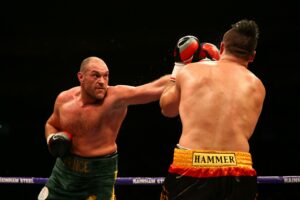 TYSON FURY VS CHRISTIAN HAMMER
Fury's victory over fringe contender and durable, seasoned veteran Christian Hammer has certainly aged well, especially considering what was at stake at the time – namely, the right to fight Klitschko – and Hammer's knockout win over David Price two years later. Making his debut at Greenwich's 02 Arena, Fury showcased his explosive qualities and full repertoire of tricks as he befuddled the Romanian with his incessant switch-hitting before putting together the necessary combinations to stop the fight in eight rounds.
Article by: Navi Singh
Follow Navi on Twitter at: @DarkMan________