Kownacki Vows To Stay in Shape For World Title Shot
Adam Kownacki (19-0, 15 KOs) will meet Chris Arreola (38-5-1, 33 KOs) in Brooklyn this weekend. The Polish-born heavyweight, who fights out of New York, is hoping to continue his winning streak to move towards a World title shot. If successful with this weekend, he moves one step closer to becoming the first ever Polish-born World heavyweight champion.
Kownacki recently watched on as Andy Ruiz Jr stepped in to dethrone Anthony Joshua on June 1st – a fight he could have secured had he been in fighting shape. He told international media in a conference call:
"[I will] keep training, [I have to] stay in shape. I could have had an opportunity to fight Anthony Joshua but I was out of shape. So I didn't pick up the challenge.
"From now on, I'm in shape. That's it. The title shot could come around the corner in a couple of weeks' notice because injuries and accidents happen. I'm definitely going to be in camp non-stop, always working and perfecting my craft."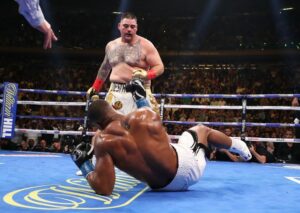 Three of the World title belts are currently tied up with Ruiz-Joshua 2 likely to take place in November. The Green and Gold belt currently held by Deontay Wilder could be contested in two if not three fights with Ortiz, Fury and a potential mandatory challenger all in the queue to face the Bronze Bomber.
The WBA, WBO and IBF World titles may also have mandatories in line before Kownacki gets a chance to achieve his dream. His best strategy seems to be to fight for vacant title if one should be relinquished. When asked about this, Kownacki replied:
"Maybe that's a possibility [to fight for a vacant title]. Boxing is very straight-forward. I think boxing is a great sport, always fulfils the fighters, so you've just gotta wait and see what happens."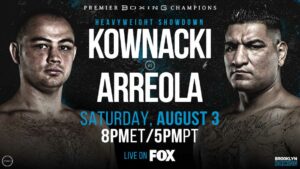 After winning his last fight, Kownacki was occupied with his 30th birthday and having to care for his pregnant wife. The opportunity to become a World champion presented itself when a replacement for Jarrell Miller was needed after he failed three drug tests in the build-up to his clash with Anthony Joshua. Kownacki was not focused and fit to take the opportunity and potentially watched his dream go up in flames. Regarding declining the Joshua fight, Kownacki explained:
"Yes, as I said I was not in any shape. I wasn't in the boxing shop. I wanted to fight. It was my birthday. I found out my wife was pregnant so I enjoyed life a little bit which I regret.
"Boxing is my full-time profession and since that call came, I've made sure that I'm in shape and that never happens again."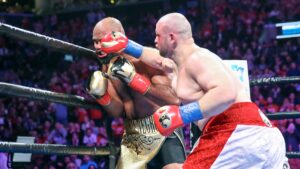 Kownacki now heads into the biggest fight of his career to date with his dream still intact. 'BabyFace' intends to get the job done this weekend and improve his record to 20-0. Learning from past mistakes, he claims he will demonstrate that nothing will stop him from achieving his dream, starting with this weekend. He told media:
"It was a learning lesson which maybe stopped me from achieving my goal a little faster than I would have. I wasn't ready, so it was the right choice and I've just got to compete to go down there.
"That's what life is all about – it's about getting through our experiences, learning new lessons and making sure you're always in shape. I'm definitely in shape now and if that call comes again in the near future – I've got to be ready."
Article by: Chandler Waller
Follow Chandler on Twitter at: @ChandlerWaller