The image of Sergey Kovalev slumped dramatically on the ropes against Canelo Alvarez has meant that it has become easy to forget just how much of a formidable force he really was in his peak years at light-heavyweight. With that in mind, we pick out five of his top performances for fans to look back on.
SERGEY KOVALEV vs JEAN PASCAL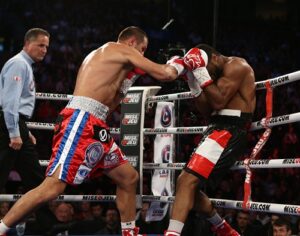 One of the most vicious, deliberate beatdowns you are likely to see in a world title fight was itself inflicted by Kovalev's heavy hands against former champion Jean Pascal in their 2016 rematch. While Pascal verbally goaded the Chelyabinsk native, sparking ugly scenes at their pre-fight press conference, a brooding Kovalev pledged to punish the Canadian for his imprudence and duly delivered on this promise; pummelling the hapless Pascal into submission after seven rounds.
SERGEY KOVALEV vs NATHAN CLEVERLY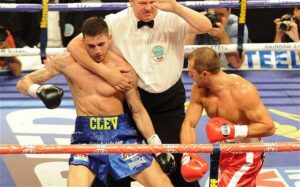 In capturing the WBO title in August 2013, Kovalev made a mockery of the hometown favourite and hostile crowd in dispatching of Cardiff's undefeated Nathan Cleverly inside four rounds. The titleholder appeared to be overmatched from the outset, as the Krusher ruthlessly went to work with his razor-sharp combination punching, dropping Cleverly in the third round. The valiant Welshman was ultimately unable to withstand the onslaught as the fight was stopped in the fourth round.
SERGEY KOVALEV vs BERNARD HOPKINS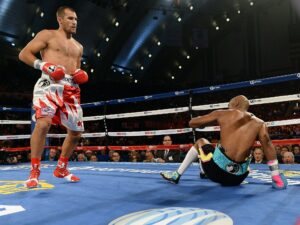 Fans were intrigued to see how the 49 year-old legend Bernard Hopkins would fare against his younger, fresher, and patently more powerful Russian counterpart in their highly-anticipated unification showdown. Indeed, the Philadelphian had garnered a reputation throughout the years as not only someone difficult to look good against, but also someone difficult to beat altogether, despite his advanced age. However, Kovalev quickly dispelled any of these romantic notions with an assured showing; dropping Hopkins in the first round and dominating him for the eleven remainding rounds to signal the end of B-Hop's career at world championship level.
SERGEY KOVALEV vs ELEIDER ALVAREZ II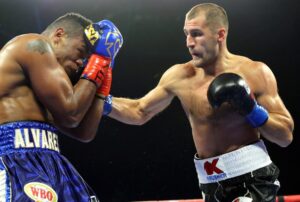 With the rematch victory over Eleider Alvarez, Kovalev joined the list of fighters who successfully reinvented themselves after a devastating setback. Under the guidance of Buddy McGirt, Kovalev produced a masterful performance; virtually shutting out the dangerous Colombian and completely nullifying offensive manoeuvres with educated counterpunching and clever footwork over twelve rounds. With a newfound patience and discipline, Kovalev effectively quietened the 'storm' and returned to the summit of the light-heavyweight division; at least for a while.
SERGEY KOVALEV vs GABRIEL CAMPILLO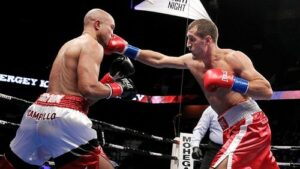 Kovalev's matchup with Gabriel Campillo showcased the Russian at his destructive best. The Krusher certainly sent out a statement to the rest of the division as he blitzed the Spanish former champion with an array of sickening straight punches and powerful shots, forcing a devastating stoppage in the third round and announcing himself to the American audience in the process. Campillo was known as a tricky, durable operator but simply crumbled under Kovalev's firepower, who at this point was training with John David Jackson; someone who would eventually guide him to world championship glory.
Article by: Navi Singh
Follow Navi on Twitter at: @DarkMan________