Erislandy Lara KO's Alvarez; Calls Out Errol Spence and Canelo Alvarez
Erislandy "The American Dream" Lara knocked out Ramon "El Inocente" Alvarez in the second round (2:03) to capture the WBA Super Welterweight title Saturday night from The Armory in Minneapolis.
"Having this belt back on my shoulder feels great," said Lara. "It means the world to be champion again. I felt like in my past fights I didn't lose, and that stings a bit, but to come back and win the title feels great. I'm back."
Lara applied pressure early and in the second round he landed a flurry of punches that sent Alvarez halfway through the ropes, causing the referee to rule it a knockdown. Once Lara had Alvarez hurt, he didn't hesitate to finish the bout.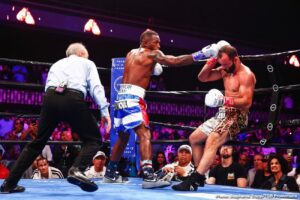 "Once I had him against the ropes, I knew I had it won and I didn't want to give him another power punch to hurt him," continued Lara. "We expected him to be a little more durable. I thought it was a good stoppage. I hurt him with a lot of shots before I put him down the first time. I hit him real flush with one and I would have gone in for the kill. It was a great job by the referee."
Alvarez didn't disagree with the timing of the stoppage saying, "I respect the referee's decision. I'm going to keep working. It is what it is. I fell down, but I will get up again."
Lara went on to say, "I'll fight anyone in the division. I do want to fight the best boxers out there in the division, or go up or down a division to fight Errol Spence Jr. or rematch Canelo Alvarez."
Source: Swanson Communications [Press Release]