Lomachenko Claims WBC Title With Unanimous Decision Win Over Campbell
Vasyl Lomachenko has successfully retained the unified lightweight championship and added the vacant WBC championship to his collection with a resounding unanimous decision victory over Luke Campbell at the 02-Arena in Greenwich, London.
With the win, Lomachenko now only has one final piece of the puzzle in order to assert himself as the division's undisputed king; the IBF title currently held by Ghanaian Richard Commey.
The challenger – buoyed by boisterous home support – started the fight in assertive fashion on the front foot and was able to negate Lomachenko's famed offensive manoeuvres with a busy lead hand, stealing the first with a cracking left hand shot.
Nevertheless, the imperturbable Lomachenko expertly glided into range – counter punches from Campbell whistling past his shoulders – and was able to snap the Hull native's head back on multiple occasions in subsequent rounds with a series of spearing jabs.
Campbell, on the other hand, remained stubborn and slippery throughout and began targeting the body of his Ukrainian counterpart with renewed purpose and determination.
Lomachenko appeared unable to systematically dismantle Campbell in the manner we have come to expect of him. Indeed, the Yorkshireman was able to exploit his size advantage and use his natural lightweight strength to good effect in absorbing Lomachenko's methodical pressure, firing back ferociously whenever stung.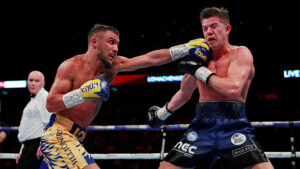 The Ukrainian's hand speed advantage and exquisite timing provided him with a distinct advantage in single-shot exchanges, but 'Cool Hand' kept a cool head in the heat of battle even as the high-stakes showdown seemed to become an increasingly comfortable affair for the Akkerman-born southpaw.
By this point, the champion was throwing with greater conviction and was operating with the assuredness that enabled him to become a three weight world-champion in just twelve fights, as Campbell was forced backwards into vulnerable positions against the ropes.
However, intelligent strategy from Shane McGuigan prevented the Ukrainian from opening up with his trademark combinations, as Campbell abandoned the upright approach he had adopted in previous contests, and continued to make the rounds competitive, whipping in the occassional body shot that invariably breathed life into the thousands of British fans in attendance.
Ultimately, it was a tenacious effort all-round from the Englishman; albeit one that, as expected, fell short.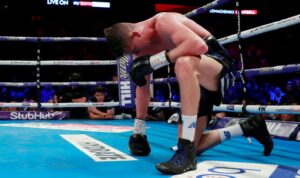 The two-time Gold medallist found an opening in the penultimate round and capitalised, as he peppered the reeling challenger with a series of devastating punches to the midsection that forced Campbell to take a knee.
Although Campbell demonstrated excellent survival skills in the final two rounds after shipping some venomous punches to the body, Lomachenko's authority in the contest had already been established and he was rightfully declared the winner by wide margins on all three scorecards.
Article by: Navi Singh
Follow Navi on Twitter at: @DarkMan________