It has always gleaned my contempt when a journalist or armchair fan who has never been in receipt of cultured leather refers to a world class fighter as 'feather fisted'. Other sages from the sofa will gleefully proclaim that one top flight boxer or another 'couldn't crack an egg.'
While I have little time for such flippancy from the touch lines it is undeniable that the history of boxing has seen some legendary talents who could reasonably be described as 'non punchers.'
To the layman it seems inconceivable that a boxer could rise to greatness without being in possession of the equaliser but we should remember that the late, great A.J Liebling called it the Sweet Science for a reason.
Expanding upon this theme, I proffer to you my personal Top 5 greatest (relatively) light punchers in history.
1. Willie Pep – 229- 11-1 (65 KOs)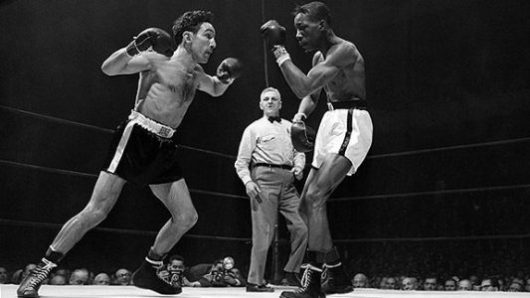 When it comes to fleet footed, mercurial non bangers who made music in the squared circle, there can be little doubt as to the kingpin in this regard.
Born Gugliermo Papaleo in Middletown, Connecticut in 1922, the man dubbed 'Will 'O The Wisp' is often regarded as one of the Top 5 fighters of all time in any context.
His unfilmed amateur loss in 1938 to the incomparable Sugar Ray Robinson in Norwich, Connecticut, is the stuff of legend. Pep lost on points but was outweighed by around 25 pounds while Robinson and trainer, George Gainsford, spent the night in jail due to the local authority accusing him of being a professional, such was their disbelief that Pep could be defeated by another 'Simon pure'.
Arguably the greatest featherweight who ever lived, Pep was a sublime mover with a radar like defence and a beautiful combination puncher. After 62 straight wins, Willie dropped a ten round decision to future Hall of Famer, Sammy Angott in New Orleans in 1943.
Following this initial set back, Pep went unbeaten in his next 73 fights before being knocked down 3 times and dispatched in 4 rounds by the man who transpired to be his great nemesis, Sandy Saddler.
Rebounding with a 15 round unanimous decision win over Saddler to recapture the world featherweight crown at Madison Square Garden in 1949 the Fred Astaire of boxing temporarily settled the score.
Although he would go on to incur a further two retirement losses to Saddler, in 1950 and '51, ring historians seem universal in their ranking of Connecticut's finest as the greater fighter, in terms of posterity.
One of the finest boxers to ever lace the gloves, in an era when ducking elite rivals was not an option, Willie had it all. Except for a punch..!
2. Holman Williams – 145-30-11 (35 KOs)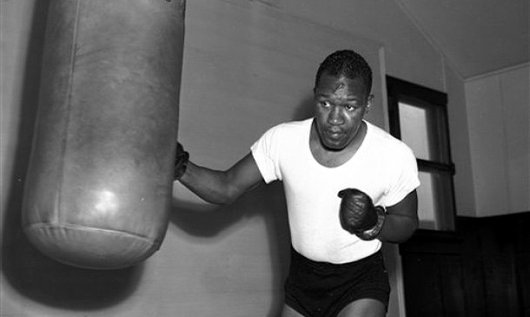 A latterly revered member of the legendary 'Black Murderer's Row', Holman Williams was one of a slew of great black American pugilists who were simply born in the wrong era. We purists often bang on about the 'Good old days' of 8 divisions and one world champ in each but the fact remains that a surfeit of genuine all-time greats were frozen out of the world title picture before the belts fragmented in the 1980s and beyond.
Sadly there is scant footage available of this seminal maverick from Pensacola, Florida but with wins over fellow legends like Archie Moore, Charley Burley, Lloyd Marshall and the tragically unregarded 'Cocoa Kid', Williams's resume is up there with the best.
Such celluloid evidence as I can find shows a great fighter with shades of Armstrong and Robinson.
In the words of historically great trainer, Eddie Futch, " Holman Williams was a great boxer but he never got the recognition because he wasn't a puncher. He had the finesse of Ray Robinson but no punch."
3. Pernell Whitaker – 40-4-1 (17 KOs)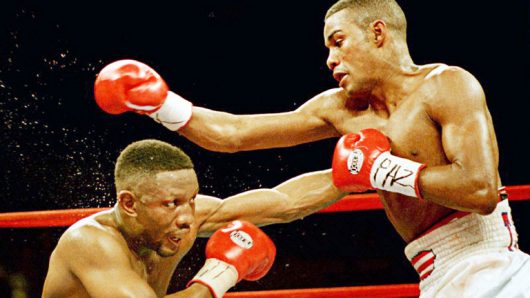 Few fighters seem so suited to their given sobriquet than the implausibly gifted southpaw, affectionately known as 'Sweet Pea'.
Cynically robbed in his first word title tilt vs Jose Luis Ramirez in an unlikely location in France in 1988. Whitaker went on to annexe world titles from lightweight to light middleweight.
Reversing his injustice against Ramirez the following year with a flawless display of pugilistic efficiency that prompted mentor, Lou Duva to shout, "Sugar Ray Robinson couldn't do it any better, baby..!" the former Olympic Gold medallist can count Greg Haugen, Azumah Nelson and Buddy McGirt amongst his notable scalps.
Decidedly unlucky to given a draw against Mexican great, Julio Cesar Chavez, there was also a sizeable body of opinion to say he rightfully beat Oscar De La Hoya in their 1997 welterweight super fight.
The other fighters on this rarified list may knock him cold statistically but boxing is not all about the numbers. A bona fide all time great and 4 weight world champion with one of the most visually beautiful styles to all but the ignoramus, 'Sweet Pea' richly belongs.
4. Tommy Loughran – 90-25-10 (14 KOs)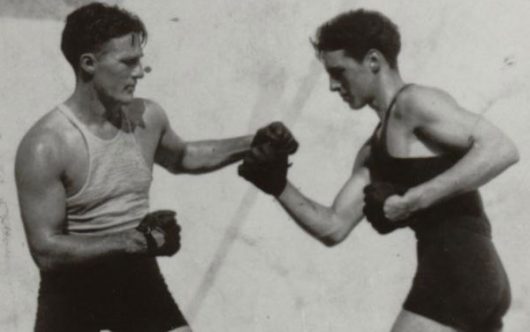 Born in 1929 and dubbed 'The Phantom of Philly' on account of his fabled evasive proficiency, this former world light heavyweight champion holds wins over three former heavyweight champions in Jim Braddock, Jack Sharkey and Max Baer.
A fluid boxer with footwork reminiscent of Gene Tunney and a hands down style, Loughran relied on speed and an uncanny judgement of distance to avoid the malevolent intentions of his countess top tier rivals.
A failed bid to relieve a 265 pound Primo Carnera of the New York version of the World Heavyweight Title via 15 round decision in 1934 was immortalised for many years as the greatest weight disparity in any title fight in history. The record stood until David Haye outpointed another freak of nature in Nikolai Valuev 65 years later.
Victories over hall of fame confederates like Mickey Walker, Young Stribling and Jimmy Slattery cement Loughran's place amongst this roll call of lighter hitting legends.
5. Nicolino Locche 117-4-14 (14 KOs)
Born in Tunuyan in 1939 and a winner of 117 of 122 amateur fights the Argentine wizard known as 'El Intocable' (The Untouchable) looked for all the world like a sawn off Juan Domingo Roldan but boxed like a precursor to Pernell Whitaker.
Balding, barrel-chested and squat his visage stood in sharp contrast to an effortlessly beautiful ring style.
Floyd Matweather's nigh on impregnable defence is about expedience and probability but Locche would invite disaster for fun and leave his aggressor looking foolish and ineffectual.
With hands dangling by his sides the Latin maestro would lean in and dare his opponent to pull the trigger while exhibiting supernatural upper body movement to diffuse their offense.
Travelling to Tokyo in December 1969 to deprive Takeshi Fugi of the WBA Light Welterweight title, Locche would make 5 successful defences, including a unanimous 15 round shut out over Colombian great, Antonio Cervantes, before losing to Alfonso 'Peppermint' Frazer.
If you have yet to see this natural phenomenon who passed away, aged 66, in 2005 then I strongly recommend that you go to YouTube and do yourself a favour.