Conor McGregor's head coach and mentor John Kavanagh has thrown a verbal left hook towards Floyd Mayweather. Coach Kavanagh posted a picture on social media which clearly states his opinion about McGregor's knockout power.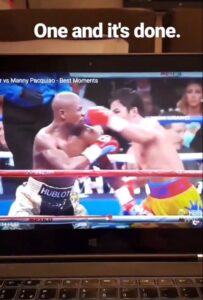 The picture shows Mayweather taking a right hand from Manny Pacquiao in their anticipated 2015 bout. Titled 'One and it's done', Kavanagh is referring to the Irishman's much talked about knockout power. To summarize: he believes Conor can end Floyd's night with one punch.
So far nothing has been announced from 'Team Money' regarding signing a contract. It's confirmed that McGregor has indeed signed the deal but it's expected that Floyd will announce his official participation in the near future.