It's not true that Jake LaMotta was never knocked down in 106 professional fights. Jake did hit the mat once during an abortive 10 rounder vs up and coming light heavyweight, Danny Nardico in December 1952.
Far from diminishing his reputation as one of the toughest men in boxing history, the aberration from a largely forgotten slugfest in Florida merely enhances it. A glimpse at the fight on YouTube shows Lamotta decked heavily against the ropes in the 7th round.
The former middleweight king duly rises to absorb a blizzard of hellacious bombs whilst holding the top rope with his outstretched right glove and a disdainful aplomb more consistent with a casual barroom wager. Fittingly, the scene could have been mocked up for the silver screen.
Following initial rumours of a hoax, hordes of credible world media sources confirmed the news, yesterday, that the hugely iconic Jake La Motta has passed away at the grand old age of 95.
The legacy of the 'Bronx Bull' is forever etched in immortality as the epitome of toughness and an indomitable fighting spirit that saw him ascend to the mantle of World Middleweight Champion in an age when that tag had a majesty that modern day fighters could scarcely contemplate.
The first man to defeat the incomparable Sugar Ray Robinson, LaMotta was further immortalised by Robert De Niro's spellbinding portrayal in what many regard as the greatest Boxing movie of all time.
Aside from the fabled cast iron jaw and relentless, feral aggression, Jake was a better boxer than generally given credit for. Appearing on a US TV talk show alongside Mike Tyson in 1986 he explained, "I didn't get hit as much as people think. I had good reflexes and I knew how to ride a shot. If I didn't, I wouldn't be talking to you so coherently now."
Allegedly the only leading fighter for whom the 1950s mob cartel held no fear ("Cos I wasn't too smart..") he famously threw a fight against Billy Fox in a bargain for the cherished title shot that still cost him 20 thousand dollars according to LaMotta's own testimony.
History has recorded the crystallising moment when it all came good on a sweltering night in Detroit as the great Marcel Cerdan was forced to quit on his stool ahead of the scheduled 10th round.
The last chance salloon heroism of Dauthuille defence and the savage poetry of his doomed, defiant stand against his enduring nemesis, Robinson, are the stuff of fistic legend.
Various fighters are remembered but very few became an archetype of the sport in the way that Jake did.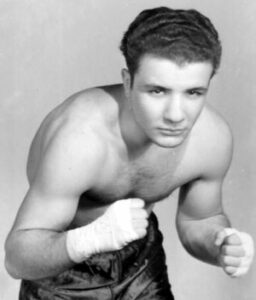 READ MORE:
Top 10 Hardest Punchers In Boxing Today
Top 10 Biggest Upsets In Boxing History
Top 10 Scandalous Decisions In Boxing History