Mike Tyson Urges Wilder To "Grow Up" Following Fury Loss
Former heavyweight destroyer Mike Tyson says that Deontay Wilder needs to "Grow up" following the maiden loss of his career to Tyson Fury. Tyson – speaking on instagram live with recording artist 'Fat Joe', also added that his compatriot Wilder needs to bounce back with "zest and courage" ahead of a trilogy showdown with WBC champion Fury. He said:
"[Wilder] feels like giving up, 'Oh, my life is over. I've made $90million. My life is over. Oh God, I want to die.' Grow up. Keep going through it until it's really over."
"Wilder can still make a lot of money. He shouldn't feel sad or discouraged. And he should continue to go out there and fight with a lot of zest and confidence."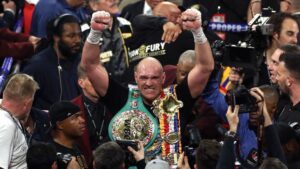 Though their proposed July date has been pushed back amid the global COVID-19 pandemic, Tyson Fury and Deontay Wilder do expect to lock horns for a third time before the year is out.
'Iron Mike' believes that 'The Bronze Bomber' needs a severe change in fortunes after their 2nd clash, however, telling Instagram viewers that the former heavyweight ruler wasn't the same fighter that battled it out with Fury in their first meeting.
"Listen, he didn't fight the same fight as he fought the first fight. The first fight, Wilder fought with confidence like he could win. In this fight, he fought like he didn't have no zest – no life in him. I don't think he was the same fighter after the first fight. After the first fight, he couldn't rise to the occasion again."