Ajayi: "My Fighter Has Hands Faster Than Amir Khan!"
The ever-outspoken Tunde Ajayi has been in British boxing for 20 years. He's worked with the likes of Danny Williams and Spencer Fearon, but only recently has he found himself truly in the spotlight. As Anthony Yarde's trainer, new levels of attention have been focused on his training methods, his opinions and his successes.
"I developed a system of boxing 20 years ago. Two-zero years ago," Ajayi told Boxing Social. "Let's get that right, I haven't just turned up. When I first came to this country, you only have to look on YouTube, people ridiculed me, mocked me and said 'What's all that pitty-patty pads?'
"Even in my own environment, in East London, I know the old school trainers laughed at me. They didn't think I could train fighters using my system but I've only had two losses in 20 years. Junior Macdonald and Akaash Bhatia. They both lost in title fights but I was very young in my training career, I was still developing my system and they were championship fights."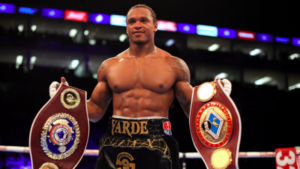 With Anthony Yarde seemingly about to face off with Sergey Kovalev in August, Ajayi's camp is reaching whole new levels of acclaim. Ajayi has taken on new trainers, including understudy Ade Olayinka, who is learning Ajayi's 'educational boxing system' – named 'System9'.
Olayinka works alongside Ajayi training 23-year-old novice pro Bilal Ali, while Ajayi trains Yarde. Ali is a fighter to be excited about, though, claims Ajayi. "He's tremendously naturally fast. His hands are faster than Amir Khan." said the trainer.
"I call him the Asian Mr. Bean," He said. "No muscles, aesthetically looks nothing like Anthony Yarde. Although he's starting to look like him now. The way our system is, it builds muscle because you're punching for so long.
"His uncle brought him to me when he was 12 years old and then I guess, like all these Asian Beckton boys, he thought he was a badman or something. He went off and he lived that part of his life and then three years ago he came back in the gym and said he wanted to take it serious.
"He's a special kid. He beat the novice champion in his second amateur fight. That was his last amateur fight and he's been training every day since."
Ajayi sees Bilal Ali's career as another perfect proving ground for his 'system'. Taking novices to title level shows off the system's merits more than taking on a seasoned amateur star, he argues.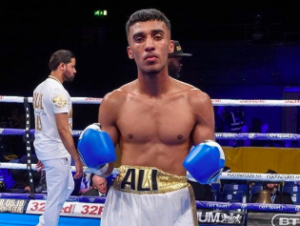 "The reason I'm so excited about Bilal is, as with Anthony, that we have somebody with no experience. Even less than Anthony who had 12 [amateur bouts], this kid had two. You will see this kid getting better and better and better. He had his second fight the other day and the skill level compared to his professional debut, it's like looking at two different fighters. That's what this system does.
"Bilal is a thinker. That's what I said to Ade Olayinka, his trainer. I said 'trust me', because nobody's looking at Bilal at the moment. He doesn't even look like a fighter yet, he hasn't got his defence locked down, he hasn't got his attack locked down, but trust me he's got one key attribute. He's a listener and a learner. That's why he's going to be something special, I'm saying that now.
"The bookmakers have already seen something too, in his second fight. You go online and try put a bet on Bilal to become a British champion or a world champion in three years and the odds are ridiculous. It's something stupid. It's either they know him, or they know me. They know I have something that will create champions. He has to pack more of this information into his brain, which he does daily, but he is going to be something."
Article by: George Storr
Follow George on Twitter at: @George_Storr1