Pacquiao Prevails Against Thurman in Vegas
Manny Pacquiao, at the age of 40, has captured the WBA welterweight title with a historic split-decision victory over reigning champion Keith 'One-Time' Thurman.
The capacity crowd at the MGM Grand in Paradise, Nevada witnessed a lively start from both fighters but it was Pacquiao who made his mark first on the contest with a knockdown in the opening round, connecting with a right hook as Thurman was momentarily backpedalling with his hands down.
Thurman appeared to be largely unhurt but was nonetheless soundly outclassed in the subsequent rounds, struggling to pin down the 'Pacman', who was having success with his movement coupled with his trademark rapid-fire combinations.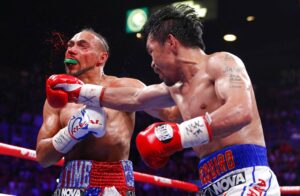 Although he was attempting to press the action throughout, Thurman was consistently outmanouvered by his Filipino counterpart and was unable to make any significant headway in the first half of the contest – something which presumably would have been a crucial aspect of his strategy.
Instead, at points it was Pacquiao who could have easily been mistaken for the younger, stronger fighter as he routinely peppered the champion with scintillating flurries of punches before dancing out of danger.
Towards the latter half of the fight, Pacquiao's output dropped somewhat and although Thurman was seemingly able to claim back some of the rounds, in addition to catching Pacquiao's attention with some powerful punches, he simply could not capitalise on or sustain whatever success.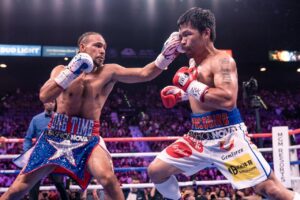 Indeed, Pacquiao's sheer stubborness and resolve – qualities that have no doubt been an essential element of his hall-of-fame career – allowed him to definitivelt assert his authority in the tenth with a debilitating body shot that threatened to end the fight altogether.
Ultimately, Thurman's offensive endeavours in the championship rounds were in vein – despite an overly charitable scorecard in his favour – as Pacquiao was declared the winner in what probably represents the biggest fight of the year so far.
Article written by: Navi Singh