Plant: "I'm Not Playing Around – This Will End With A KO!"
Ahead of his Nashville title defence on February 15, Caleb 'Sweethands' Plant has issued a vicious warning to mandatory challenger Vincent Feigenbutz.
Speaking at his Nashville press conference, the unbeaten IBF World super middleweight champion – who halted the previously-unbeaten Mike Lee in just three rounds last time out – vowed to produce another knockout when he returns home next month.
"This fight is going to end in a knockout on my behalf," He said. "I want everyone who's going to be in the building and tuned in to know that this world title is staying right here in Tennessee.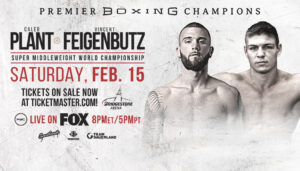 "Some people – when they become champion – they feel like they become the hunted, but that's not the case with me. I'm still hungry. If you're in my way, I suggest you get out of it. Because I won't miss you."
"I've heard Feigenbutz is strong and physical and he thinks he's going to come in and knock me out. Mike Lee thought he was going to knock me out and Jose Uzcategui said he was going to knock me out, but how'd that go for them?
"At the end of the day, boxing is hit and do not get hit. I have plenty of skills to spare. On February 15, I'm not playing with this guy. If he thinks he's going to come in here and spoil my plans, I promise you that he's got another thing coming."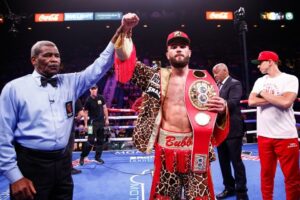 Germany's Feigenbutz – who boasts an impressive 28 stoppages from his 31 wins – hopes to stun 'Sweethands' and claim his place in German boxing folklore by becoming only the 2nd man from his nation to win a World title on US soil. Though acknowledging his underdog status, the 24-year-old challenger confidently stated:
"It has always been my goal to have a big fight like this in the U.S. I am not going there to lose. I am coming over to become only the second German boxer, after the legendary Max Schmeling, to win the world title in the U.S. and bring the belt back home to Germany.
"I hope everyone in my home country will have my back and support me on this journey. For me, Plant is the strongest of all super middleweight world champions. We are the underdog, but we won't make it as easy for Caleb, like in his last fight. We know how difficult a fight on American soil is, so there is only one strategy: Get the knockout!"