Preview: Matthysse vs. Taylor
Lucas 'La Maquina' Matthysse (37-4) vs. Emmanuel 'Tranzformer' Taylor (20-4)
Super featherweight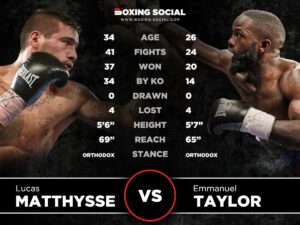 This is the long awaited return of Lucas Matthysse. The Argentinian last fought in 2015 and suffered his first ever knockout loss to Viktor Postol. Before that fight Matthysse was known for having a steel chin, but the 34-year simply could not get up after getting hit by a massive straight right by Postol in the tenth round.
Naturally there are many questions surrounding Matthysse. The biggest one is ring rust. 'La Maquina' is 34-years old and has not fought since October of 2015. That is a very long layoff for a fighter in his mid thirties whose chin is about to give. He's been through countless wars and some even question if his heart is still in it.
Nonetheless he still possesses a very menacing straight right and his left hook can cause serious damage as well. He has power in both hands and can be technical when need be. The speed might not be there anymore, but Matthysse has tons of advantage in experience.
If there ever was a time and a place for Emmanuel Taylor to make a statement, it's this weekend. The 26-year old former prospect is on a two fight knockout win streak and has never been stopped in his career. Tough is the first word that comes to mind when describing Taylor. He can and will gladly exchange in a phone booth-type of fight due to his aggressiveness. 'Tranzformer' is a skilled fighter with a nasty overhand right and fast combinations.
Many will definitely pick Matthysse over Taylor. The Argentinian has the reach advantage and knockout power to cause serious damage to his opponent. Technical abilities and movement favor Matthysse as well. But again, the issue of ring rust and previous wars is something that should not be overlooked. Taylor can cause upset if he takes control of the fight early on with his aggressiveness and durability. If Matthysse manages to defeat the younger and hungrier Taylor, more power to him, but the prediction still is an upset majority decision win by Taylor.