In a welcome change of events, the mainstream media across the globe have had a positive news story on the sweet science to share.
Following a candid interview with the Daily Telegraph's Bryony Gordon, Prince Harry revealed that boxing had saved him from having a 'complete breakdown.'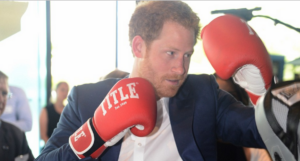 In a boldly courageous move, HRH divulged how the tumultuous events surrounding the death of his mother, Princess Diana, and its aftermath affected his personal well-being for 20 years.
Things came to climax when, aged 28, the prince endured a prolonged two year bout of "total chaos" that left him feeling that "on the verge of punching someone."
Harry realised that he needed a positive outlet for his aggression which led him to lace up the gloves.
"I took up boxing, because everyone was saying boxing is good for you and it's a really good way of letting out aggression. [It] really saved me because I was on the verge of punching someone, so being able to punch someone who had pads was certainly easier."
The boxing community, both in the UK and around the world, should welcome someone of such renown coming forward to express how boxing can be positive force in people's lives.
Too often the focus on boxing is centered on trash talk, dodgy decisions and corruption. The positive association with British royalty on how boxing can help those struggling with mental health issue is a step in the right direction to changing an often negative narrative.
Part of the royal initiative to get more people talking openly and honestly about the subject of mental health. Harry, his brother Prince William and the Duchess of Cambridge displayed their boxing prowess at an event last year.
Putting them through their paces was former three weight world champion Duke Mckenzie.
Whilst their jabs look they could use a little work, the event helped show that the royal family are certainly coming out swinging in the fight for mental health.