Thurman Aiming to Destroy 'Ring Legend' Pacquiao
As Keith 'One Time' Thurman gears up for the most significant fight of his career against Manny Pacquiao in Las Vegas, the need to forge a memorable legacy sits on his mind. The WBA World Welterweight champion – ten years the junior of his opponent – told international media via conference call that he was honoured to be sharing the ring with 'ring legend' Pacquiao on July 20, though there is no respect once the opening bell sounds.
"I'm just happy to be sharing the ring with a legend in Manny Pacquiao," Thurman said. "I have this beautiful opportunity to be performing once again at the MGM Grand, and to showcase my skills and my talent to the world. I'm just creating my own legacy and leaving my own mark in this beautiful sport of boxing.
"This is a once in a lifetime opportunity to destroy a legend and to create my own legacy. How can I not go for it? If Manny Pacquiao is the man that beats me, he's the man that beats me and I'm going to shake his hand after the fight and congratulate him. But when Keith Thurman steps into the ring, you're dealing with Keith Thurman and he's a bad man.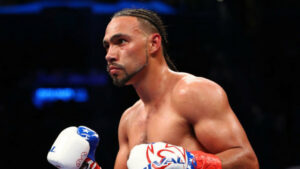 "I wanted this fight six years ago at the MGM Grand. I just always thought that it would be a beautiful fight. I would always love the opportunity and to have the opportunity right in front of me, we're counting down the days. It's just beauty man. It just shows that dreams do come true. With hard work and dedication you can make anything happen.
"Manny Pacquiao has almost 70 fights in his record. It's as if I'm fighting Sugar Ray Robinson himself. It's as if I'm fighting Roberto Duran. This is Manny Pacquiao. It's just a tremendous, tremendous feeling and it's going to feel even greater when my hand is raised at the end of the night."
After being forced into taking just shy of two years out of the ring due to being plagued by injuries following his win over Danny Garcia, Thurman returned with a laboured majority decision victory over underdog Josesito Lopez back in January.
Following the layoff and somewhat mediocre return to action, many fans were left questioning how much the WBA World champion had left in his tank at just 30 years of age.
Thurman admits that he was unsure as to whether he would return to action post-surgery – often contemplating early retirement. 'One Time' – now fully recovered and mentally recharged ahead of his bout with Pacquiao – said:
"I started having to ask myself the question – are you ever going to fight again? Is your career over at the age of 28, 29 years old? Are you done? Is that all that you will ever accomplish in your career? It was sad but I could still be proud about being a two-time world champion unifying the WBA with the WBC when I defeated the undefeated world champion Danny Garcia at the time.
"I'm still in my prime so it was quite depressing to start thinking like that and obviously I got myself out of that chain of thought and getting into the gym also helps because as you're not training, you're not feeling good either. As you train and you lose weight, you know everybody feels better about themselves and training is a natural way to increase endorphins in the brain.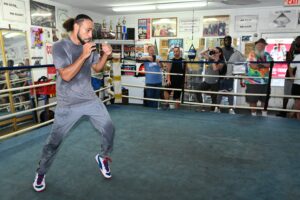 "Not everything can be your best day and I had some depressing moments and some negative thought patterns at that time. But luckily for me, my doctors kept encouraging that you will be back and I could have gotten back at the end of 2018, but I talked to my team, I talked to my wife and I was encouraged that nothing good was coming out of 2018.
"So let's just wait for 2019. Let's start fresh. Let's hit it in January and patience can be a virtue sometimes and I believe we're having a tremendous year and I'm obviously a lot happier to be back in the sport."