Top Five Fights To Watch During Lockdown
With the sporting world currently on standby amid the COVID-19 pandemic, there is no better time to relive classic battles of years gone-by. Here, we outline five dust-ups to give fans their much-needed boxing fix.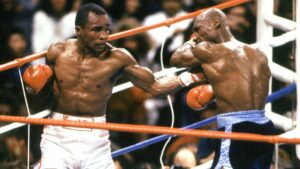 SUGAR RAY LEONARD VS MARVELOUS MARVIN HAGLER
Sugar Ray Leonard versus Marvin Hagler represented the quintessential clash of styles. Even to this day, the split-decision verdict still sharply divides opinion and the scorecard of 118-110 in Leonard's was something that was hotly contested at the time. Coming off a layoff of several years, Leonard was expected to succumb to the educated pressure and heavier hands of his counterpart but was able to frustrate him with his intelligent movement and slippery style. Despite this, many still believed Hagler deserved the nod overall; courtesy of his activity levels and consistent aggression, as Leonard was perceived to be 'stealing' rounds with thirty-second flurries.
FLOYD MAYWEATHER VS DIEGO CORRALES
Floyd Mayweather's artful dissection of Diego Corrales is as punch-perfect a performance as you are ever likely to see. Corrales, undefeated at the time, was perceived to be a difficult proposition for the Grand Rapids native with his rangy dimensions and heavy hands. However, an irresistible Mayweather produced a boxing display for the ages, expertly working the jab to the body, manoeuvring himself away from any return fire, and positively boxing rings around his counterpart before stopping him in the tenth round, knocking him down five times in the process.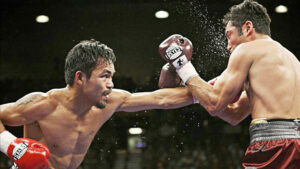 MANNY PACQUIAO VS OSCAR DE LA HOYA
Manny Pacquiao announced himself to the world when he defeated Oscar De La Hoya in December 2008 in sensational style. Although the Golden Boy was generally considered a spent force at this point, at the welterweight limit he was still perceived as possessing enough size and strength to see off the Filipino southpaw. However, such notions were quickly put to bed as Pacquiao went to work with his combination punching, invariably beating De La Hoya to the punch before dancing out of danger. Ultimately, the Californian favourite simply was not able to mount any meaningful offence in the face of Pacquiao's firepower and scintillating handspeed, and was stopped in eight rounds.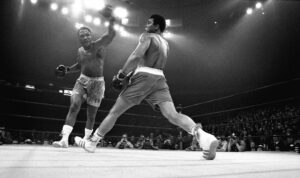 MUHAMMAD ALI VS JOE FRAZIER I
The Fight of the Century saw Muhammad Ali challenge Joe Frazier for the latter's heavyweight title at Madison Square Garden. Ali, who harboured an unbridled confidence in his own ability to beat any heavyweight, was forced into exchanging punches early on with the determined champion as the fight degenerated into something of a brawl. Although Ali displayed breathtaking courage and punch resistance, the relentless Frazier simply would not be denied, knocking down Ali in the final round to secure a memorable unanimous decision victory in the first instalment of their memorable trilogy.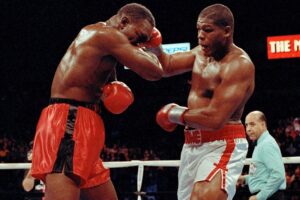 RIDDICK BOWE VS EVANDER HOLYFIELD I
Riddick Bowe's showdown with Evander Holyfield is also popularly regarded as one of the greatest heavyweight matchups of all time. The Real Deal was forced to give ground as the bigger and stronger Bowe got the better of their thrilling exchanges, forcing the Atlanta native to regroup and rethink. With the momentum in his favour, Big Daddy was seemingly resolved to secure the stoppage victory – despite a seesaw tenth stanza – and nearly got it in the penultimate round, before withstanding a final desperate attempt from Holyfield to salvage a victory in the twelfth, emerging victorious via unanimous decision.
Article by: Navi Singh
Follow Navi on Twitter at: @DarkMan________