Tyson Fury Brutally Slams Anthony Joshua – "I will box rings around him"
Tyson Fury's in back in training and certainly back at trash talking Anthony Joshua. In recent interviews with The Daily Telegraph and BBC, Fury had much to say about his upcoming potential opponent. He even stated that Eddie Hearn, Joshua's promoter, has booked Wembley Stadium for April 2018.
"Eddie Hearn has already booked Wembley Stadium for next April. There isn't another stadium where it should take place. I would fight Joshua in October, but I believe Klitschko will take the rematch," said Fury.
Naturally Fury wasn't handing out any compliments to Joshua.
"I always said Wladimir would be my easiest fight, now I'm changing the goal posts. AJ will be my easiest fight. I always knew what he was. I'll tell you what he is. He's a big man with a puncher's chance. That's it. He's got no footwork, no speed and no stamina neither. I will box rings round him," told Fury.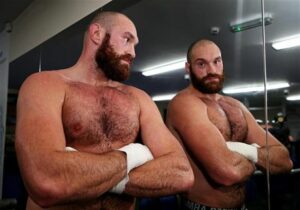 Fury still has long way to go in order to fight Joshua or anybody else for that matter. His boxing license was suspended by the British Boxing Board of Control after admitting taking cocaine for depression. He then vacated his WBA and WBO titles. Fury also gave a positive drug test for a banned substance called nandrolone although 'The Gypsy King' denies taking any performance enhancing drugs and is threatening to sue UKAD.
"I've never taken a drug in my life. These people can say what they like, but I'm suing them for what they have done to me. They thought they had a villain and that they were going to take me down. This went on from before the Klitschko fight. If I tested positive then why didn't they ban me then? To be honest I didn't want to live. If I had cheated, fine. But I have not cheated. I beat Klitschko on ability. I don't need a drug. I'm a giant already. For them to say that about me, it sent me under. I did not want to live any more. But I feel differently now," claimed Fury.
In Fury's absence, Joshua has risen to the top of the boxing heavyweight world. But Fury still believes that he is the true number one heavyweight in boxing.
"I'm not annoyed that AJ has been lifted up there by some people as the number one. They were saying before that he could beat me. It is what it is. I am the outlaw of this boxing game — and I love it. I've been written off so many times. How many times was Muhammad Ali written off in his career? But come Sonny Liston, Joe Frazier, George Foreman, he beat them all. And when the time comes, I'll go through them, and all their unbeaten records will fall."
According to Fury's promoter Frank Warren, the former WBO and WBA champion is planning to make his return this summer on July 8.
https://www.youtube.com/watch?v=IFK3RmtHhlQ