It's no secret Mike Tyson was spender back in the day. Like, a big spender. When 'Iron' Mike hit his thirties that's when things started going sideways. With millions and millions in the bank, no wonder he went a bit off the rails, wouldn't you?
"I didn't think I'd make it through my thirties. My thirties were scary, weren't they," said Tyson in a press conference in Las Vegas according to boxingscene.com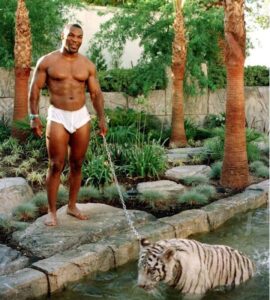 Tyson made about 350-400 million total during his career. The spending definitely got out of hand as Tyson filed for bankruptcy in 2003. And there is no denying his countless problems with drugs and women, especially cocaine and prostitutes. He also spent tens of millions on cars and multiple mansions. At one point he even owned a white tiger. Eventually he had a debt of 23 million dollars.
"I went crazy with it," commented Tyson.
You don't say, Mike?
In his prime Tyson was surrounded by yes-men and countless other people who were simply after his millions. According to Tyson the yes-men we're the absolute worst.
"I can't even call them leeches. That's too decent of a word to call them," he said.
The former world champion then went on to talk about his many times in rehabilitation centers and implied that not everybody makes it through.
"I'm one of the lucky ones."
Nowadays Tyson is hosting his own show on Las Vegas on a regular and has a new family. He is in a better place mentally and is determined to keep it all together this time, even the money.
"I plan on keeping it this time. We made it out of our hellhole. I just knew it was time to grow up. It was time to be a man. Time to be present in your children's lives," told Tyson.