Usyk Has Miscalculated "Different Animal" Chisora, Says Haye
Ahead of Oleksandr Usyk's pay-per-view clash with Derek Chisora, David Haye says that the Ukrainian star has "miscalculated" his heavyweight counterpart. Speaking at the Usyk-Chisora announcement press conference, 'The Hayemaker' also added that Usyk – a heavy favourite to conquer Chisora and pursue a mega-fight with Anthony Joshua – should expect a "dogfight" on May 23.
"I think this has worked in Derek's favour, the fight being pushed back, as it has given him an opportunity over the six month period to consistently train. We're not talking training so he will be burnt out come fight night but periodic training. We are working on his engine, his punch quality and week by week he has improved. He has looked so good that we had to give him a vacation!
"He has done his first spar and we now have ourselves a situation with an exceptional Cruiserweight, perhaps even the best ever moving into a division where he hasn't done anything yet. He touched on it as an amateur, but that is long range and about boxing skills.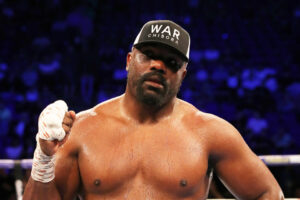 "Derek isn't going to try and outbox Usyk, he is going to drag him into a dogfight from the first bell. I feel he is brave enough to hold his feet because he feels he is significantly better than Derek but he is going to be in there with a completely different animal.
"Sometimes skills can be overridden by size, heart and desire. I don't feel that Usyk has been in a rough fight which he will be in on May 23rd. We are going to cause a massive upset and I feel that Usyk has miscalculated Derek heading into this fight.
"Who would have thought that Derek would have been in the ring with a pound for pound king in Usyk a couple of years back? Usyk does not realise what Derek is about! His coach will not allow him in sparring to do what Derek will be doing to him with 10oz gloves on. This will be a special fight."