Wilder v Fury: The Changing Tide
The shoulder-shimmying and the kiss blown across the ring may have seemed arrogant to some, but for Deontay Wilder, those gestures allowed him to breathe a sigh of relief. He trotted backwards, eyes as wide as my own scorecard tallied against him, with another opponent in an all-too familiar position – flat on his back.
During any other fight, the Alabama-native with construction poles for arms would have climbed a turnbuckle, celebratory and comfortable, knowing his destructive right hand had taken care of business again. But this wasn't any other fight.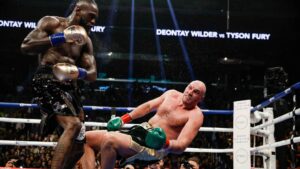 Tyson Fury, the travelling man from Morecambe, flashed Jack Reiss the whites of his pupils and somehow clambered to his feet, as if controlled by strings draped from the production towers above them. He took the remainder of the twelfth round to Wilder, working on the front foot, his tongue flickering suggestively. These weren't the actions of a sane, rational boxer. They were instincts that have long lived with the former champion; never give up; never stay down, in life or in boxing.
That exorcism would turn out to be Fury's defining moment, despite beating former divisional kingpin, Wladimir Klitschko, in Germany. The Brit has returned from depression, addiction and obesity, inspiring thousands of fans across the United Kingdom to take a look at their own circumstances. Those ten seconds counted out by veteran referee, Reiss, saw a group of people rise to their feet. It was symbolic and it was very tangible.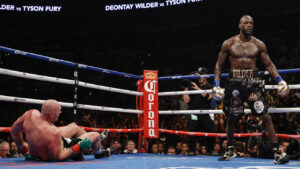 The fight was scored a draw – we know that. We also know the pair will face-off again this coming Saturday, with Wilder's WBC heavyweight world title on the line. But could Tyson Fury have already blown his best chance of an historic victory by waiting too long? Had Wilder figured out Fury's dark arts, after overcoming Luis Ortiz and Dominic Breazeale?
Fury was flying high after his performance in Los Angeles, arguably robbed of another reign as the division's champion. But what has followed has been less awe-inspiring. Wins over Tom Schwarz and Otto Wallin have done little to improve Fury's profile, but he's always been a big-time performer. He flew to Germany on the back of a win over Christian Hammer – unfancied by almost everyone – and looked as sharp as his scathing insults. However, it's not just his recent outings between the ropes that could raise cause for concern.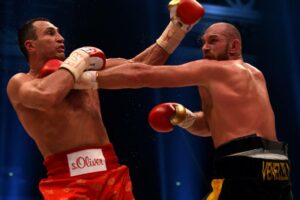 A sportsman's dinner tour of the United Kingdom, splitting from confidanté Ben Davison in favour of another relatively unheralded head trainer based Stateside and his continuing, ridiculous remarks about training methods have all raised questions amongst boxing media and Fury's own fans. Is the big man distracted? That laser-focus applied to the initial Deontay Wilder camp back in 2018 has been posted missing, for the cameras anyway.
Wilder, on the other hand, has never been in as strong a position with the sport's media or its paying public. The Bronze Bomber is respected as one of the heavyweight division's most brutal punchers in history. Many feel he's overtaken the likes of Mike Tyson and George Foreman, destroying opponents with single shots and ignoring the tika-taka tactics of more intelligent boxers. He's proven time and time again that even when trailing by five rounds or more, he can – and will land that devastating right hand. Opponents now have to accept their fate – even Fury, felled twice in their primary encounter.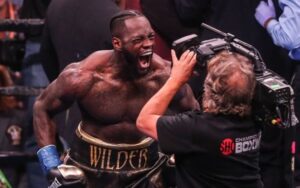 Everything that Tyson Fury has changed, Deontay Wilder has kept the same. General consensus sees either a victory for Fury at the hands of the judges or a stunning stoppage for the American champion. Though, both men are spinning yarns to the contrary. Fury claims he will stop Wilder, raving about planting his feet and 'taking shots to land them'. Wilder has expressed comfort in taking Fury the distance, though expects to get his man out of there prior. It's a mystery for now, in a truly great heavyweight contest.
With Sugar Hill Steward and Andy Lee in his corner, Fury claims he's hitting harder than ever whilst strutting around in prime physical condition. Does he feel as though the job is already done? The camp seem to be placing a lot of faith in his remarkable resurrection during the final round of their contest in Los Angeles. But getting knocked down heavily doesn't feature in the blueprint of many champions – especially not touching canvas twice. They will surely focus on how easily Fury was able to outbox Wilder, carrying that additional weight and desperately scraping off championship ring rust.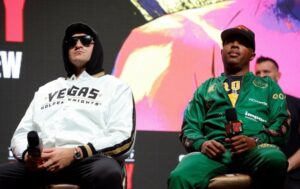 Wilder is still accompanied by family man and astute analyst, Jay Deas. That hasn't changed. Their union has survived Wilder's rise from struggling father to thriving champion, and so it continues. That familiarity can only benefit the Bronze Bomber, now settled into a routine and oozing confidence. When the pair originally bumped gloves, Wilder was brash and full of bravado. Screaming 'Bomb Squad' and engaging in heated debates with John Fury, he was insufferable at points. But now, he appears relaxed, perhaps more comfortable than ever in his own skin. America has grown to love Deontay Wilder; crazy, looping punches and sloppy footwork included. He stands for far more than just boxing.
The only thing I'm sure that the majority of us are truly hopeful for is fair, honest officiating. Tyson Fury should have moonwalked out of the venue on that cold, December evening, crowned WBC champion. Anybody that disputes that wasn't watching the same fight. Understanding the rounds won in Deontay Wilder's favour by two points, he still shouldn't have emerged with his title. But boxing has witnessed far worse in the fourteen months that have followed. In Las Vegas, the American entity that is Tyson Fury should carry additional favour. After all, it's been his home. If the officials are in order, the fighters will take care of the rest.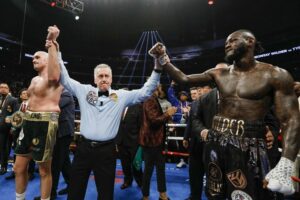 At the end of the day, this heavyweight clash signals a rarity in our often frustrating sport. Two men, at the top of their division, butting heads. Promoters and television networks have met in the middle and the clamour for clarity has reigned supreme. One winner. One face. One name. While everything has changed for the challenger, mostly everything has remained the same for the champion. Time will tell who benefits from either familiarity or innovation.
Written by: Craig Scott
Follow Craig on Twitter at: @craigscott209