Wilder Vows Devastating KO Against 'Nervous' Fury
With just over a month to go until WBC World Champion Deontay Wilder's mouth-watering rematch with Tyson Fury, the 'Bronze Bomber' has vowed to knock his English counterpart out of the ring on February 22 in Las Vegas.
Speaking at their only scheduled press conference in Los Angeles, the 34-year-old was in bullish mood ahead of the biggest fight of his 12-year professional career to date.
"I knocked him out the first time we fought," Wilder said. "I told him two years ago I was going to baptise him. Rising up is part of the baptism. Because he's in WWE I'm going to make sure he gets knocked out of the ring, I might even come down with a flying elbow from the top rope.
"I'm going to do exactly what I said I would do. I'm going to knock him out. I'm the lion. I'm the king of the jungle. I'm going to rip his head off his body. When you're facing power there's no way around it. You can't prepare for that. You just have to hope that when it lands, it doesn't do that much damage."
"He believes in his heart that he'll knock me out. The magic of it all is in the belief. Though he's saying those things, I don't feel in his energy that he believes that. I feel like he's nervous because of what happened the first time."
Wilder, who lost near enough every round to Luis Ortiz last time out before producing yet another stunning knockout, said he would be using the same patient approach to measure up Tyson Fury.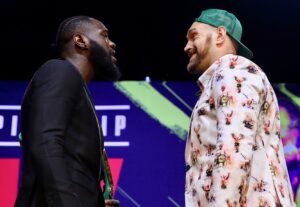 'The Gypsy King' appeared to have clearly won the majority of sessions in their first encounter, though the WBC World champion insisted he was more concerned about winning the fight than he was with winning rounds. He added:
"I just learned from the first fight that I need to be calmer. I'm going to be a lot more patient in this fight, just like in the second Luis Ortiz fight. The object of boxing is to win, not just to win rounds. And I win in devastating fashion."