With 20 wins and all of them coming via stoppage, plus three world titles on the side, do make an impressive resume when you look at it on paper.
Anthony Joshua has already achieved what most fighters could only dream of in a short span and he's not even hit 30 yet. The good thing for Joshua is that he's only getting started.
As the clear number one face and name in heavyweight boxing or perhaps in the whole sport of boxing, Joshua is expected to achieve great things while on top, especially in 2018.
His number one target at the moment is the WBC World heavyweight champion Deontay Wilder from Tuscaloosa, Alabama. If all goes according to plan, Joshua will face Joseph Parker after defeating 'The Bronze Bomber' and will try to become the absolute undisputed unified WBA, WBO, WBC, IBF & IBO World heavyweight champion.
And let's not forget about fighting the current Ring Magazine heavyweight champion, Tyson Fury.
He believes achieving all of the above would put him in the same category as Muhammad Ali and many other heavyweight greats.
"One hundred per cent because we have done something credible, tangible and we have the assets to prove it. I always say the proof is in the pudding," said Joshua in an interview with Dubai Eye 103.8 according to the Daily Mail.
'AJ' most definitely realises the potential that he has.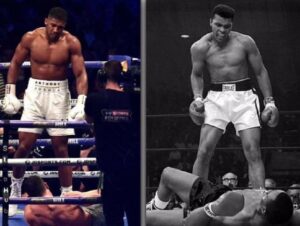 "When I negotiate the fight, once it's done, I'll announce it. I don't like to talk about 'I'm this, I'm that' when I haven't got it. So once I have it and I'm on the journey, say the fight is a week away, I'll say: 'I'm on the verge of mentioning my name alongside the greats like Muhammad Ali and Mike Tyson.' At the minute, I'm a prospect and I know what the future holds but I'll just a keep a lid on it for now because we still have so far to go," explained the WBA, IBF & IBO champion.
Joshua knows the British public are desperate to see the debate get settled between him and Fury.
"It has been four years in the making. We have been listening to what people want and they want to see who is king of the heavyweight division. I'm embracing everything coming my way this year," told Joshua.
Fury and Joshua have recently gone after each other on social media with verbal jabs and videos. On Monday 'The Gypsy King' posted a pair of videos him back in the ring hitting pads and doing footwork.
https://www.instagram.com/p/BbcZafRjr0j/?taken-by=gypsyking101
Meanwhile, Joshua has been relaxing under the sun in Dubai and taking some time off from the heavyweight hassle that comes along with being world champion.
Last week Joshua's promoter Eddie Hearn met with Wilder's management team in New York to start discussing terms regarding the big heavyweight clash between the two world champions.
READ MORE:
Joshua Explains The Fury Tweet – "That's What You Got To Do With Tyson"
Eddie Hearn Updates Joshua-Wilder Negotiations – "We Talked About Doing Two Fights"
Klitschko Seconds Away From Agreeing Joshua Rematch
Tyson Fury Posts A Video Response To Joshua's Nasty Tweet