Tyson Fury Asks President Donald Trump To Walk Him Into The Ring Against Joshua
Tyson Fury's comeback fight is still far away from happening. The former world heavyweight champion has been very active on social media lately, tweeting and posting videos about his possible future opponents Deontay Wilder and Anthony Joshua.
https://www.instagram.com/p/Ba6OsSmD4ZV/?taken-by=gypsyking101
I'm gonna stop you @anthonyfjoshua inside 8 rounds watch me go.

— TYSON FURY (@Tyson_Fury) October 31, 2017
Fury still hasn't been officially licensed as a boxer by the British Boxing Board of Control and he still hasn't had his final hearing with UK Anti-Doping.
So in other words, despite the activity on social media, nothing has changed as of yet. But it is expected that things might take a leap forward in January at least according to promoter Frank Warren.
"He has to get his license back and that will depend on what happens in January," told Warren.
Fury still seems certain that he will get his license back and fight Joshua in 2018. He's even tweeted the President of the United States, Donald Trump to walk him out into the ring.
@realDonaldTrump who do you think wins the fury vs AJ fight? You can walk me out if you want, be a part of the biggest fight ever,🙏🏻🙏🏻❤️❤️

— TYSON FURY (@Tyson_Fury) October 31, 2017
So far, President Trump has not responded to Fury's tweet.
According to reports and the man himself, training has started for Fury who hasn't fought professionally since beating Wladimir Klitschko in November 2015.
https://www.instagram.com/p/BW2BvArjnGQ/?taken-by=gypsyking101
As for Trump, this isn't the first time he's been asked to participate in boxing.
Back in the Mike Tyson era, Trump was a familiar face in boxing.
The two were associates and according to Russia Today, Tyson used to train at Trump Plaza Hotel and Casino in New Jersey. Reportedly Trump even offered to be 'Iron' Mike's financial advisor and he played a part in hosting different big fight's in the 90's, such as George Foreman versus Evander Holyfield.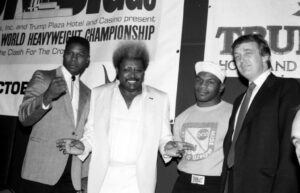 READ MORE:
Tyson Fury Calls Out Wilder And Joshua
Report: Eddie Hearn In Talks With Tyson Fury
BBBoC Are Willing To Let Tyson Fury Fight In 2018