Tyson Fury vs. Tony Bellew? – "Let's Get It On"
Even though Tyson Fury has said that he's focused on Anthony Joshua, that doesn't mean he isn't up for other big fights as well.
One such fight is him and Tony Bellew.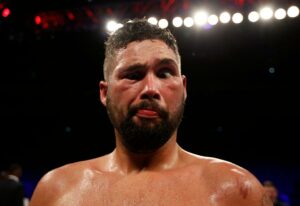 "The Bomber [Bellew] fight is something I'd be interested in because of the money but it's not really a fight," commented Fury.
Fury believes that the size difference is just too much between him and the Liverpudlian.
"I could beat Tony Bellew and no disrespect to Tony but I'm 6 foot 9 and 18 or 19 stone. Tony Bellew is 6 foot 3 and about 14 to 15 stone. So it's not really a contest, is it?"
The Gypsy King isn't really gunning after a fight against Bellew but with under the circumstances and money – Fury is game.
"Listen, Tony Bellew is not on my radar because for one he's a cruiserweight and he did knock out David Haye but is only a cruiserweight too. So he [Bellew] is the best cruiserweight around. But if they want a fight, no problem. Let's get it on," he said.
Fury recently announced that he will be back in "12-13 weeks" but he still needs to get his license back from the British Boxing Board of Control.