Exclusive: Glenn McCrory Weighs In On Joshua-Pulev – "Joshua Still Needs To Learn"
World heavyweight number 1 our very own Anthony Joshua takes the show on the road to Cardiff on the 28th November against Bulgaria's tough and rugged Kubrat the 'Cobra' Pulev.
Joshua was thought to be taking on Cuban Luis Ortiz but it's the 36-year-old Pulev who steps into the frame, Pulev has a very credible record with only one defeat in 26 fights and that was at the hands of then a peak Wladimir Klitschko in November 2014.
Klitschko was in devastating form as he floored Pulev twice in the opening round, but he showed heart and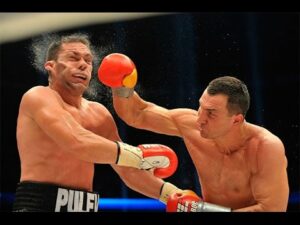 grit to last into the 5th before a huge left hook handed the Bulgarian his first loss in 21 fights, he has regrouped of late with 5 straight wins since that crushing defeat.
Joshua still needs to learn. It's a safer option than Luis Ortiz. It's a fight where he can still improve in. His management needs to be careful not to put him against every tough guy, although Pulev is tough. They need his career to last. After nineteen fights he still a work in progress.

It's going to be a big night. We will have to have a good undercard. People are used to the big show. They have been given Wembley. People will judge everything on that now. I'm certain that the undercard will be exceptional as well to support the main event.
https://t.co/ooyjHRb26q 💥 pic.twitter.com/L9g1f452PJ

— Anthony Joshua (@anthonyjoshua) September 5, 2017
David Haye Eyes Anthony Joshua In 2018
Malignaggi Still Wants To Fight McGregor – "I Would Fight For Free"
Top 10 First Round Knockouts In Boxing